If you know a thing or two about sewing and have seen pictures of Liberty London fabrics you will know that they are just special. It is very hard to find such detailed, ditsy, dainty floral fabrics. What I love most about them is the fact that the patterns are tiny but outlined. Most printed fabrics don't have outlines, but this style just reminds me of vintage watercolour illustrations.  
After receiving my first piece of this fabric I had been eyeing online for months (it's very hard to find in Germany) I was convinced that it was the most exquisite quality cotton fabric I had ever touched. Not only are the prints so delicate and tiny, the woven structure is also so tight and and small that the surface almost feels like silk. Swoon!
However, something that keeps me from sewing everything I ever make from Liberty cotton is the price. It is EXPENSIVE. After seeing it in person I know why the price is so high. But over 30€ for one meter (a little bit over a yard) is still a lot. For comparison: A dress usually needs 2-3 m, sometimes more, plus the zipper, thread, lining etc. So you better don't make any mistakes! 
The perfect way I have found to make the best of the fabric but still don't send a fortune is to order a small quilt / patchwork pack and use it for as many small precuts as I can squeeze into it. This little bag doesn't have to be made from Liberty fabric, you can use any fabrics that pair beautifully. Maybe you have some scraps from a previous project?
---
What you'll need:
Liberty London fabric selection and lining fabric // fabric scissors // a 21 cm zipper // a zipper foot (optional) // matching thread // your sewing machine // an iron // some cute charms or ribbons, If you like the look
this project can be done by beginners with basic sewing knowledge.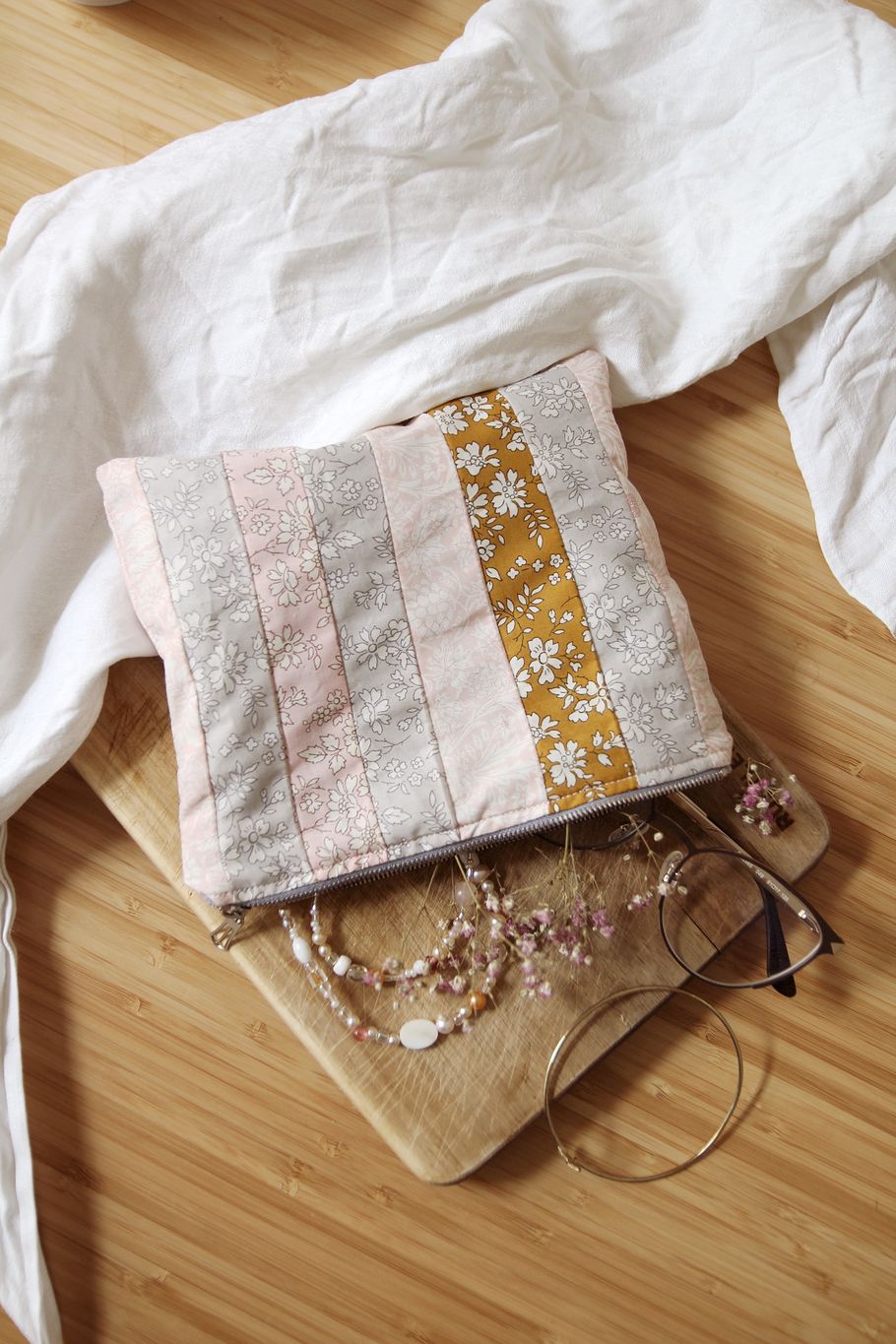 ---
1. step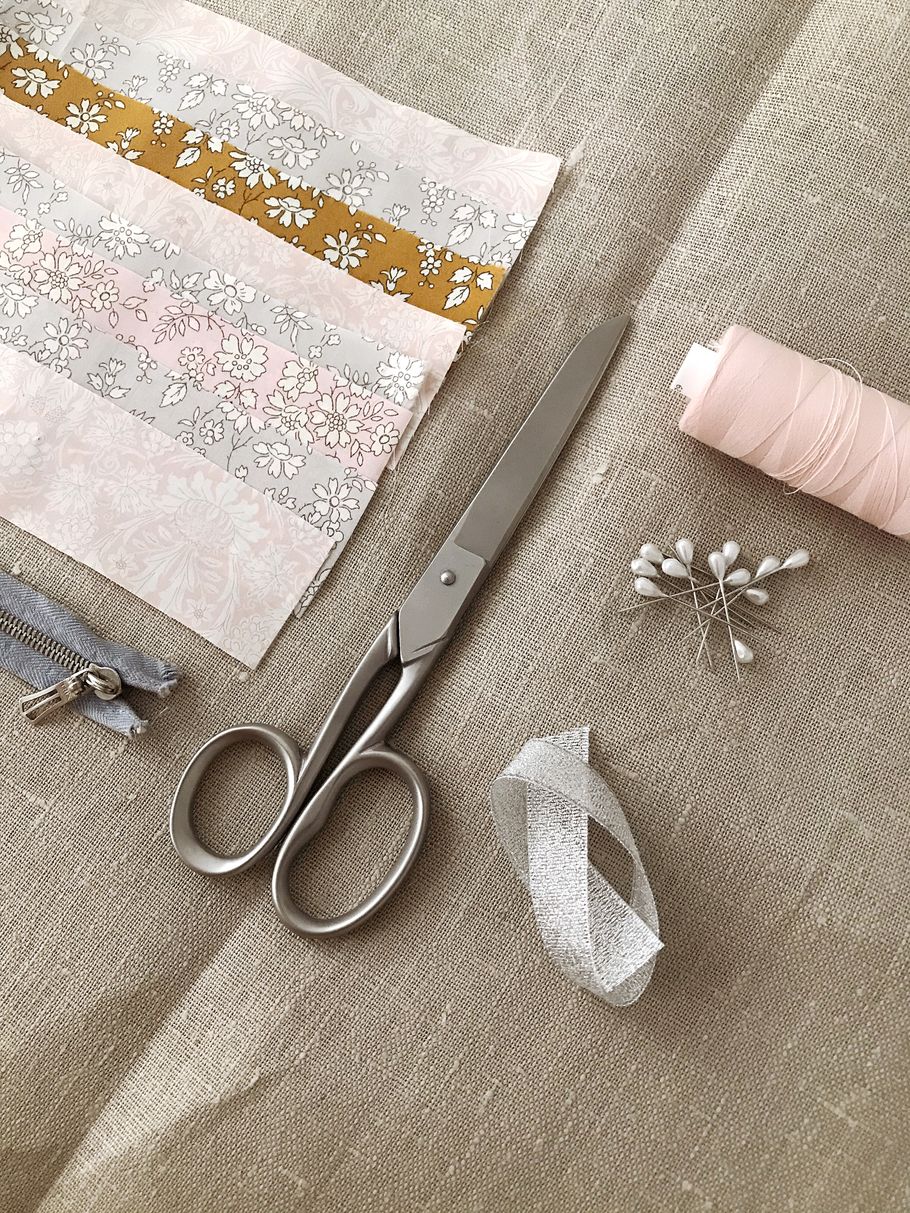 As a first step, measure and cut your fabrics. Please check the information of the fabric you're using and pre-wash it to shrink it if necessary.
You will need: two rectangles of lining fabric, each of them 17x23 cm and 8 strips of Liberty fabric each measuring 4x34 cm.
You can lay the outer fabrics next to each other and sort them until you like the composition.  
2. step
sew your fabric strips together, adding about 0.5 cm seam allowance. Turn the finished rectangle around and iron the seams open of the back so they lay flat nicely. Cut the rectangle into two pieces down the middle.
3. step
Pin your zipper between one edge of the striped rectangle and one edge of the lining fabric, as seen above, with right sides facing. The zipper should be facing "up" to the outer side. Sew down the line, using a normal sewing machine foot or a zipper foot if you have one and want to be very precise.
You will get to a point where the little zipper end is in your way. Stop sewing here, move the little zipper piece and finish the line. Don't forget to backstitch very time you start sewing again!
There are great tutorials out there on using zipper foots, so I won't go into details here.  
Repeat the same on the other side, making sure that the lining and outside fabric are on the right side of the zipper. Depending on which side of the striped piece you are using, your little pouch will have perfectly matching stripes on both sides or a "mirrored" stripe pattern.   
4. step
Iron the edges around the zipper you have just sewn. For a perfectly neat zipper edge, you can sew down the little edge around the zipper with a simple straight stitch on both sides (left fabric sides are facing here).
Now take your flat, ironed piece and flip the sides onto each other so that the lining sides are facing and the striped sides are facing. Pin the edges. The little teeth of the zipper should lay down in the direction of the lining (photo 2). Sew around the entire rectangle, leaving a small line open (I marked it with a pen and two pins) somewhere in the lining. You basically start sewing around the rectangle on one of the lining's edges, but finish a few centimetres before that.  
5. step
Turn your little bag inside out through the hole you left open. Fold the raw edges into the hole and sew it closed.
And... You have a beautiful, handy little pouch that is big enough for pens, your keys or anything small you carry around at the bottom of your bags, haha. 
Please tag me @lara.charlotte.lu on Instagram if you try this little tutorial, I'd love to see what you make!