I have always had very dry skin and must have tried hundreds of lotions, exfoliants, sunscreens, oils and supplements in my life. And one thing I have learned is that I can not get around a proper exfoliation when I shower, take a bath or even wash my face.
So you could say I'm writing this having tried quite a few options out there and let me tell you: Most physical (meaning non chemical acid ones) exfoliants don't really do anything if you have really stubborn, flaky skin. And a lot of them include micro plastic which is obviously something we should all know to avoid by 2020. 
I don't know how it took me so many years, so many magazines, so many pinterest recipes and blog posts of homemade exfoliants to think "Hey... I should finally try to make one myself.", but here we are.
This morning I I finally thought I should gather all the memories of recipes I have and try to combine them to make the perfect mixture for my own recipe. and her is what I came up with: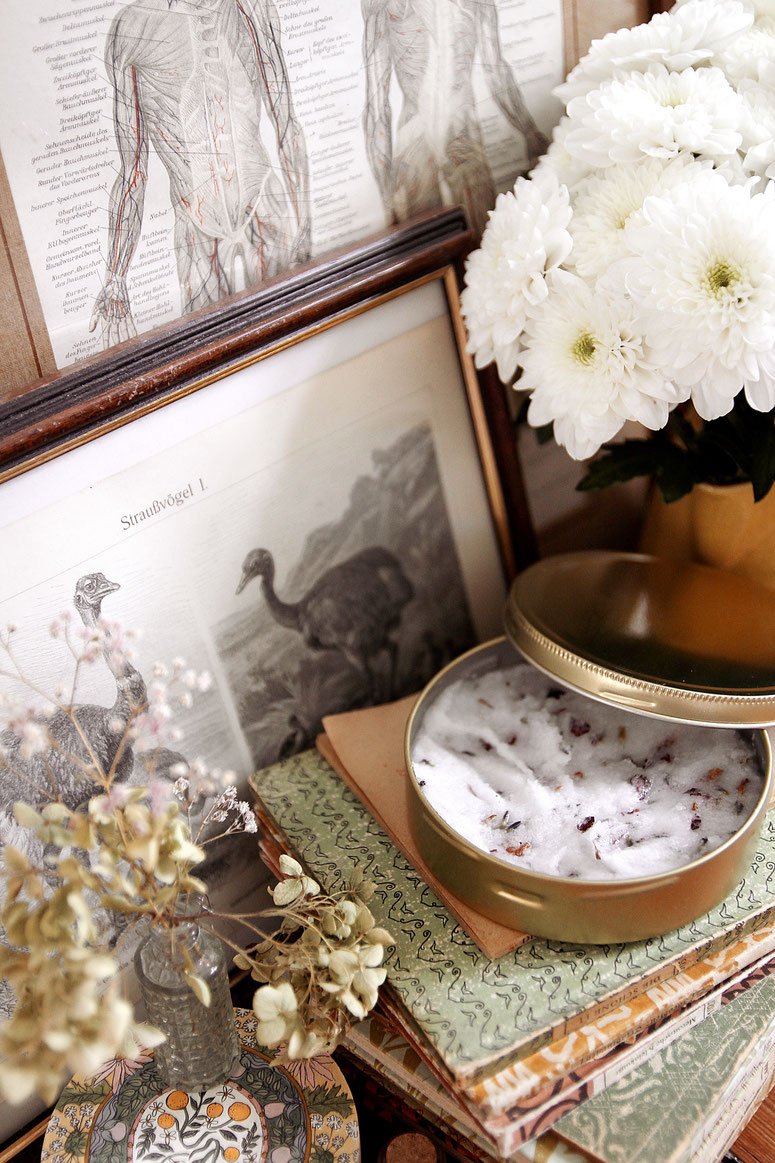 ---
I only made a small batch to test it out, so I'm giving you the measurements in tablespoon which are what I used, but the ratio is always around one part oil on two parts sugar. 
You will need:
- 2 tbs coconut oil
- 4 tbs sugar crystals 
- 1-2 tsp dried flowers (I had rose petals and lavender at home)
- a few drops of essential oil (I used organic lavender)
You could easily make it from sugar and coconut oil alone, but the dried flowers and essential oils are what makes it fun, right?
Lavender is of course only a suggestion, you could combine any essential oils you have at home. Some things I want to try next are: peppermint - sounds so refreshing - // - vanilla with tiny venially particles from vanilla beans - // maybe cinnamon for christmas
The options are endless! If you don't have any dried flowers to add, think about all your tea options. I bet you have a tea that includes dried flowers or peppermint at home that you could use. A body scrub that smells like my favorite tea while I take a bath? Yes please!
---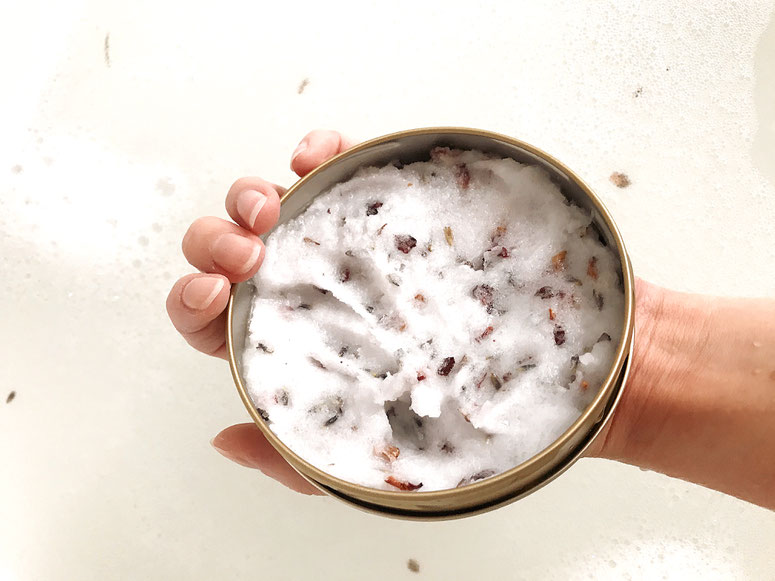 ---
To make your scrub simply use a little bowl to mix your coconut oil with the sugar until it's well combined any creamy. Now you can add your dried flowers or tea leaves and essential oil little by little, depending on the intensity of smell you like.
You can store your mixture in an airtight container.Coconut oil and sugar preserve pretty well, so if you use this scrub regularly and make sure you don't get lots of water in it, it should not go bad before you have used it up.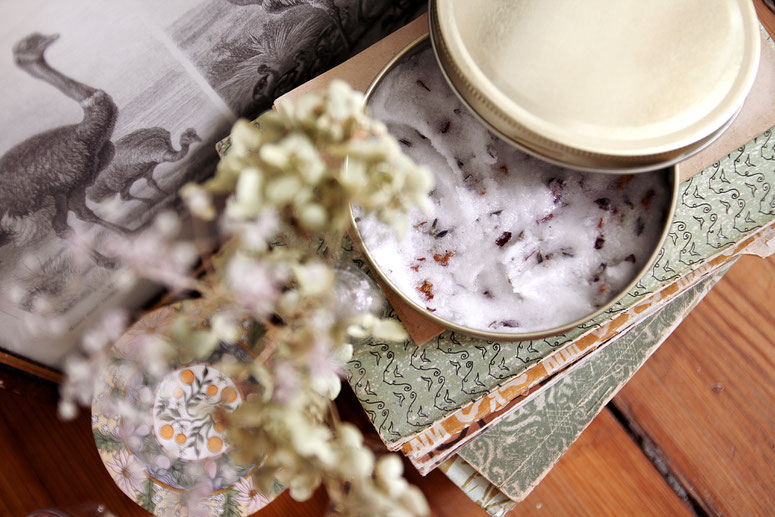 Some other little things I would like to add here: I'm not a dermatologist, so please ask you doctor about how to treat your specific skin type and do you research on specific ingredients you want to use in your scrub.
Be gentle with your skin and never use and exfoliant violently - I just know that I need quite a bit of exfoliation because of my special skin condition, where my skin produces a lot more dead cells and they layer up within hours, so there's no chance moisturizer could get through that barrier otherwise. I literally have a thin layer of withe powder in all rooms around my home, so dusting is a must. 
But anyways, I hope you enjoy this little recipe, I'm sure you beautiful ladies and gentlemen are smart enough to use it properly anyways, haha.
Have a good time!
Lara 
P.S. I'll attach a few more pictures in case you are as obsessed with pinning recipes as I am. 
---