A few days ago I was going through my desk drawers and found a package of white air dry clay. I immediately  remembered a project that has been on my mind for a while now: Mini rainbow ornaments! Every time I see one of these I think I should really try and make some because they are so cute and looked so easy to make.
And trust me, they really are! This would be the perfect quarantine project to do with kids, you can even make your own air dry clay, just google it to find a big number of recipes. I could also imagine salt dough as a good option, and you only need 2-3 kitchen ingredients for it (unless flour is sold out... oh well).
And if you're a smart parent, you can have some fun mixing and combining the prettiest colour palettes and let your children use them - soft, spring like pastel hues will definitely brighten up your and your kid's day and make these rainbows look a lot more advanced than the bright red, blue, green and yellow Kindergarten art projects you're presented with occasionaly. ;)
And before the mommy police comes into this discussion to be mad at me - I think giving a choice of colours is perfectly fine, your kid will probably care a lot less than you if you put mustard, lemon or sunflower yellow on an art palette. As long as it seems like a legit choice and not "Darling, we don't paint with blue, I will take this blue paint away" kind of situation. 
But let's stop chatting and start crafting! Whether you do this alone for your home or to keep your children busy - I hope you have some fun and enjoy the colours. 
---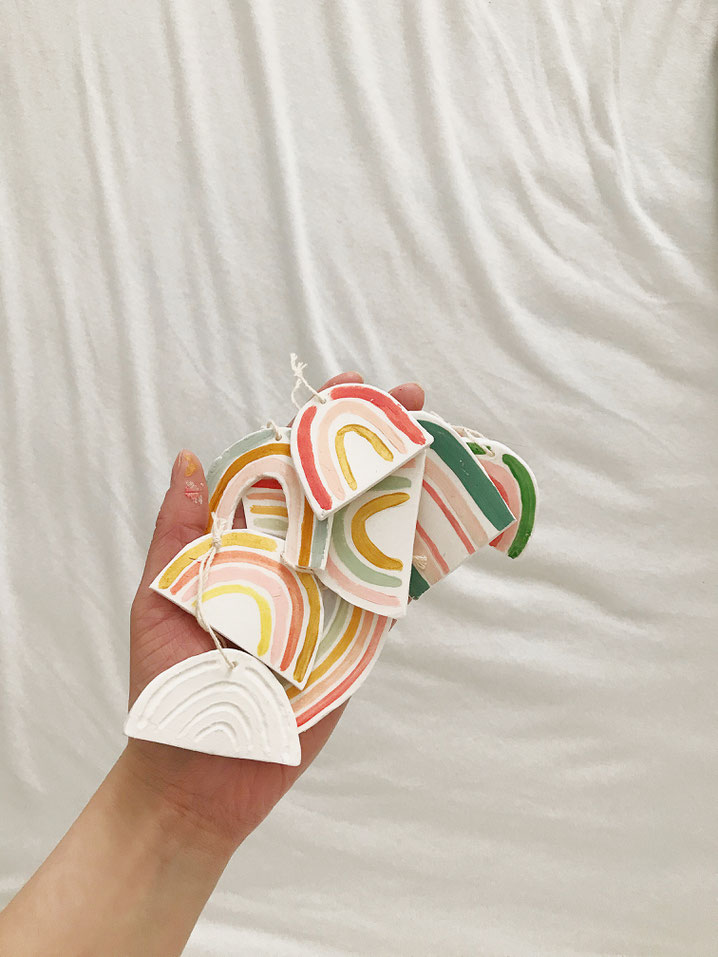 All you will need:
acrylic paint / air dry clay / a needle or toothpick & thread / something round for rolling out / a brush / some water  / a sharp knife
You'll have to wait for the clay to dry before you start painting, so maybe prepare these the night before and let them sit on a dry, quiet place overnight.
step1 :
Take chunks of your air dry clay, knead them until soft & easy to roll out. Now use your rolling pin (e.g. a hair spray tin, a glass etc.) and roll them out to you desired thickness, I'd recommend about 5mm to 1 cm. 
step 2:
Take your sharp knife *or* round cookie cutters with different diameters, if you happen to have some, and carefully cut out half circles (or full circles, cut in half) followed by smaller half circles under them, depending on the look you're going for. You can now use your water, wet your fingertip and smooth out any frayed edges from the cutting process. 
step 3:
Use a toothpick or a needle to carefully pick a little hole where you want to hang your rainbow. Don't make it too small so you can easily use your chosen thread with it. Now you can just put your rainbows aside, I dried mine on a piece of old wrapping paper overnight, forget about them and come back after a while. Just check your package instructions or the recipe you're using for the perfect drying time - some can even be hardened in the microwave or oven.
For the white textured rainbow I used the back of my brush and a bit of water to make a little pattern in the wet clay.
step 4:
This is where the fun begins, start mixing your colours and use a paint brush to decorate the rainbows. Experiment a bit with how much water you use, if like a very watery watercolor look our of you don't want to use water at all for a dry brush effect. They rest is pretty intuitive - let them dry, attach your thread, decorate the whole house.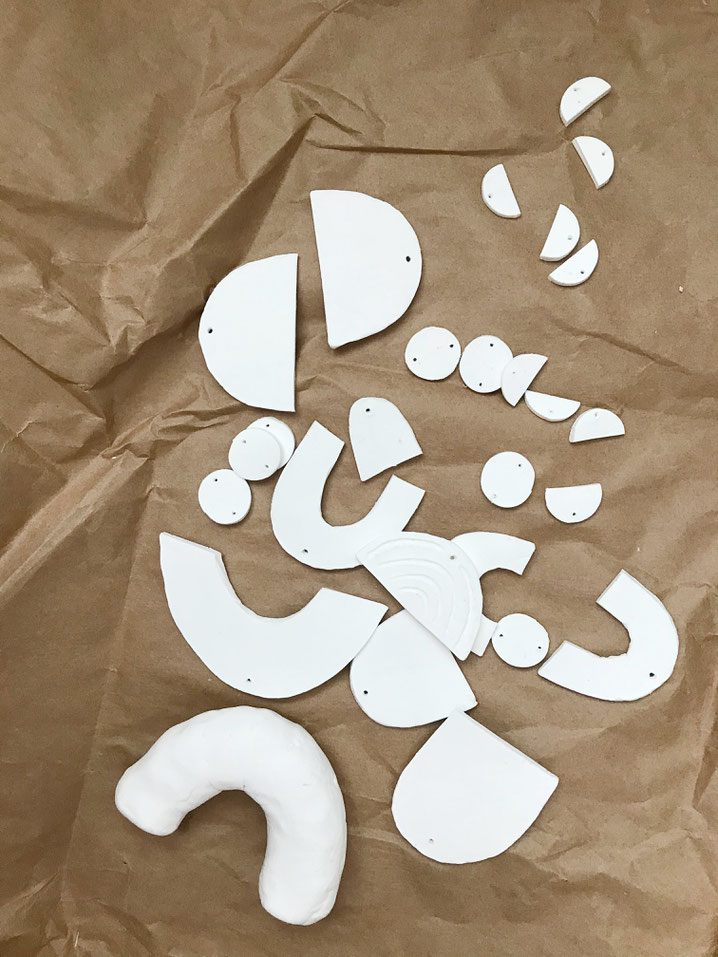 While I'm always up for a good combination of red, pink and warm yellow/ mustardy beige, I also discovered pistachio green during this.
But you obviously don't need to limit your options to pastels - try brighter colours, neutral tones (I think next time I'd make some earthy tones, maybe with natural air dry clay), cool black and white etc.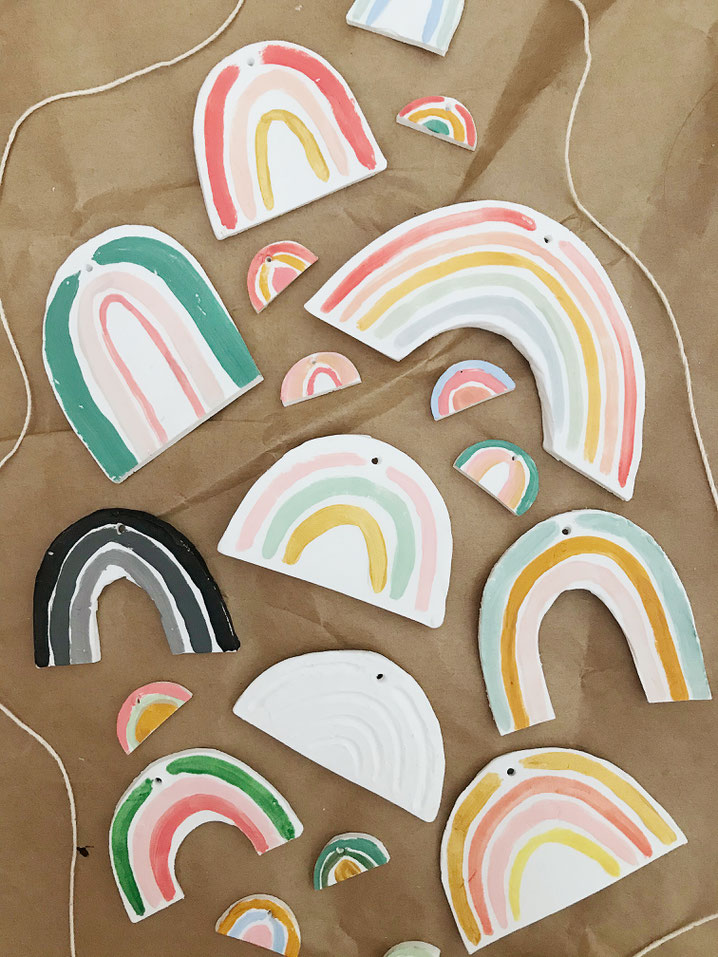 By now there are at least two rainbows I all of our rooms. If I had a nursery to decorate I would probably make a little mobile out of these. Options, options... I hope you like these and have fun making them!
Above are some photos of the rainbows around our home - they add a fun little touch to everything! I just used some washing tape to attach them so they can be taken off easily. I'm not sure I will use all of them - I might take some to make little gift tags. Just imagine that on a pretty, neutral box, the name written on the back with a waterproof marker. 
You can really have some fun with these and customize them to your taste!
I hope you enjoy making them and bring you a little distraction from these crazy times-
- Lara