---
A few weeks ago I shared a blog post with you that was all about a bee themed birthday I was planning. 
I really love planning around a theme because it allows me to really get creative and think outside of the "I'll just make a chocolate cake" box. Not that I don't looove chocolate cake, that's definitely always an option. But the little decorations are what make it even more exciting.
This post is basically my interpretation of the mood board/ vision I shared with you, so if you're looking for specific recipes, check out *this* post. 
However, some of the sources I found made the decorations look rather complicated and I'm all about quick, easy and accessible solutions. So that's why I thought I'd just share some photos and little tricks with you here to inspire you for your future baking.
Also, as a side note: These photos were taking in bad lighting, on my phone, on a birthday morning, so they're not what's considered to be the picture perfect blogger quality. But that's not what I want to share all the time, sometimes a blurry photo of a mushy cake is so much more realistic, exciting and relatable (at least for me). I sure love following people and their picture perfect journeys, but that's not a
1. the honeycomb cheesecake
This cake was inspired by a mousse cake I showed you in my last post, but the recipe was in Hebrew and I'm not sure if it is safe to prepare warm food using bubble wrap... So I came up with my own version using a simple cheesecake recipe! When I took it out of the oven I immediately poked holes in it using the back a big wooden spoon. The cake was still in the baking tin at this point. 
Now regarding the super nice "honey" effect: You can't really tell this from the photos, but it turned very transparent and glossy. Most cakes I found used jello or gelatin here, but since I don't really like gelatin I tried agar agar, a vegetable equivalent made from algae, for the first time. And it worked perfectly! It's available online, but I even found it in the baking section of our local supermarket (to all German followers: Edeka and maybe even Rewe sell it). I cooked it according to the packaging instructions, using a yellow juice instead of water, and poured it over the cake. I happened to have some golden sprinkles to sprinkle in at home as well. 
2. the bear donuts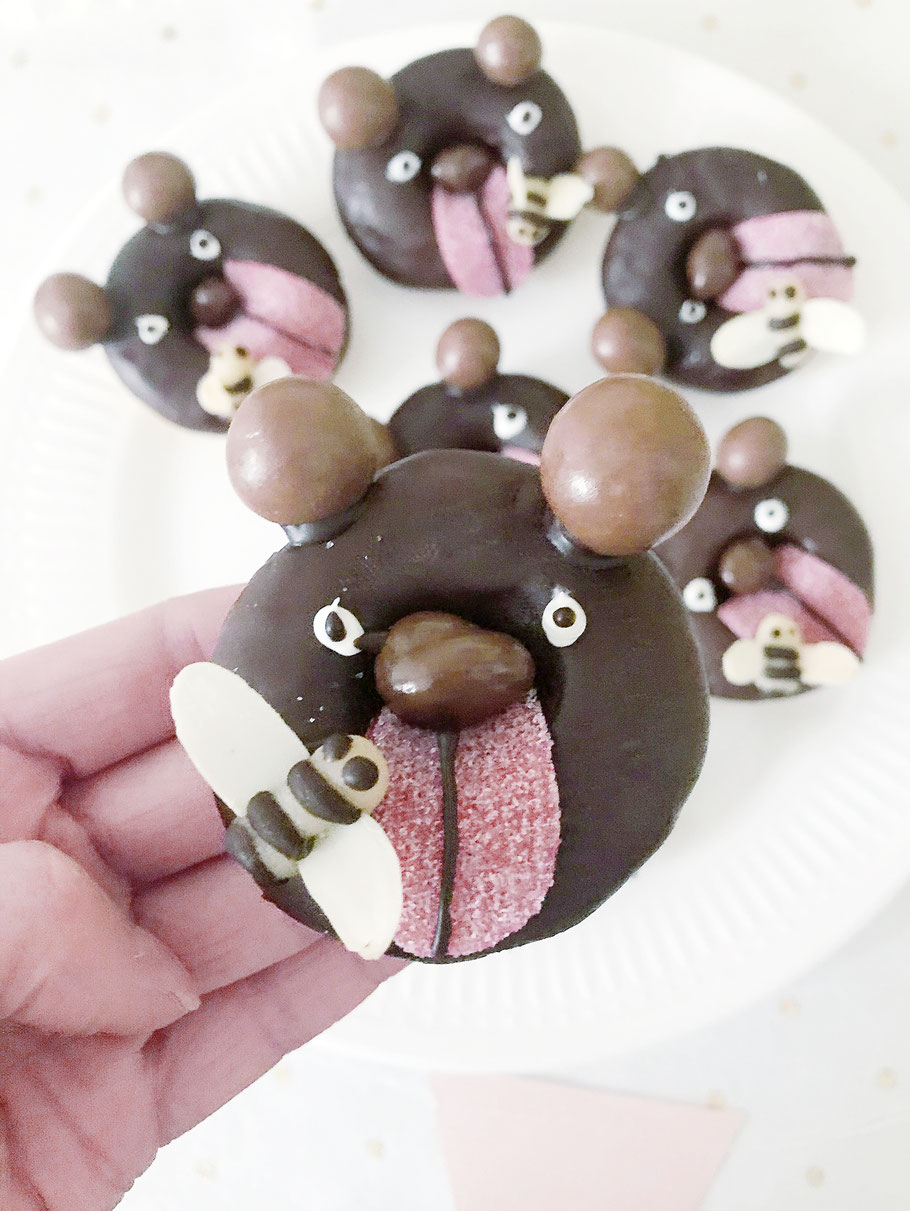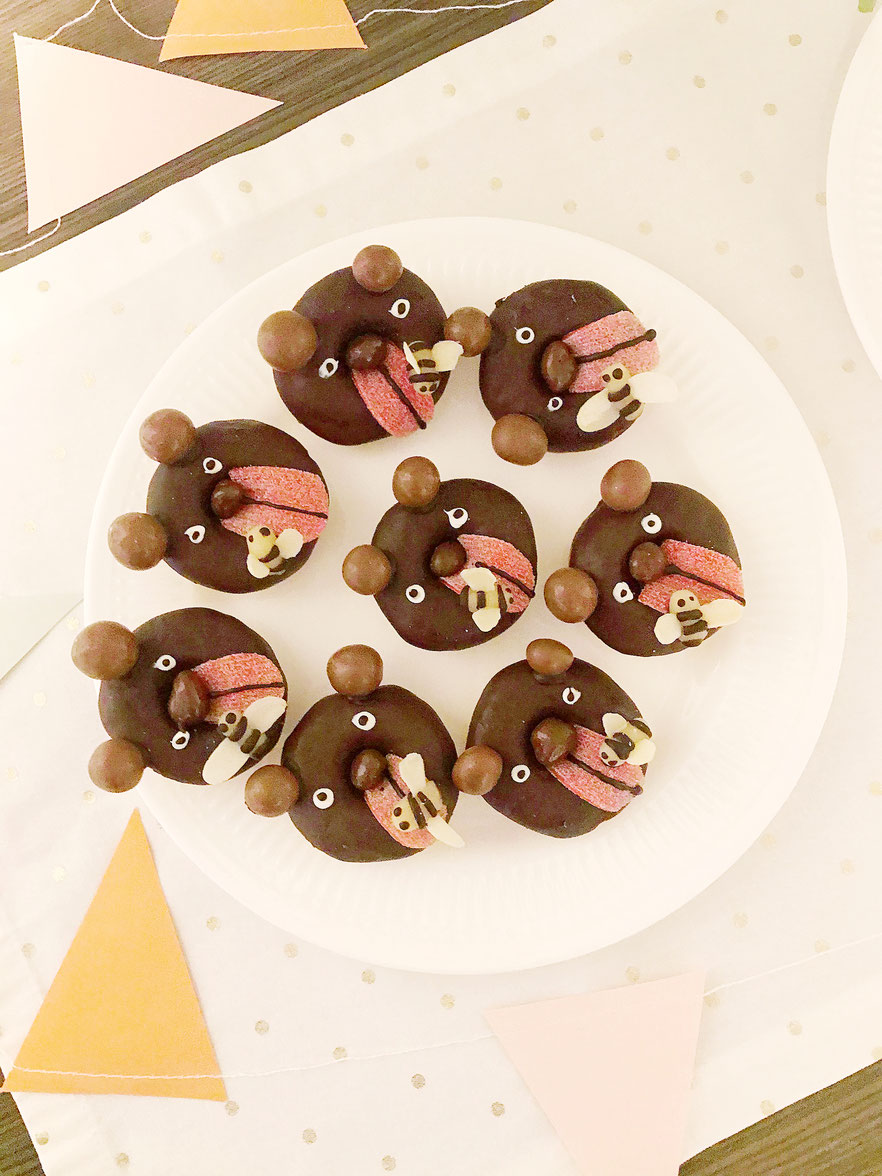 These were very fun and easy to make and would be perfect for a kids birthday party! All you need are mini donuts, some kind of sour gummy ribbons cut with scissors, white and milk chocolate applied with a toothpick. For the nose and ears I used chocolate covered raisins and hazelnuts, but you can use pretty much any ball shaped chocolate snacks/ pralines. Instead of white chocolate you could also buy candy eyes, but the only ones I know are pretty hard, like solid sugar, and using them only to pick them off and leave them doesn't make much sense to me. 
The assembling is pretty self explanatory, I think. Melt the chocolate, cut the ribbons and stick it all together. If holding the "wet" parts takes too long, just move the donuts close together so that the ears are leaned onto the next donut (I hope that makes sense).
3. caramel drip cake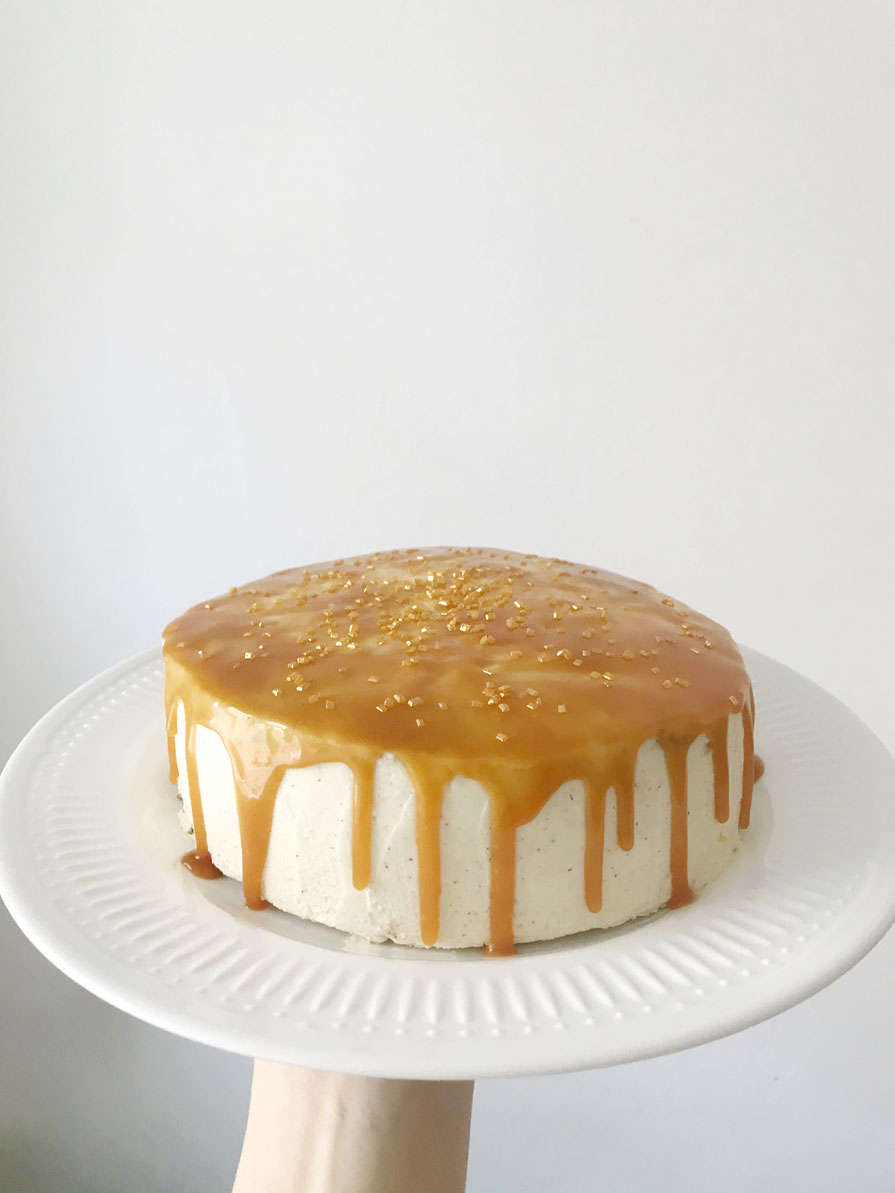 The other cake I made was this one I already shared in my last post, it's pretty much the exact recipe. It really turned out sooo delicious! To make the glaze I used only sugar and cream which I melted together and cooked for the right consistency. Again, topped off with the little golden sprinkles I talked about earlier. I also used real vanilla bean for the frosting which makes it very delicious and gives a pretty speckled look.  
4. mini tartelets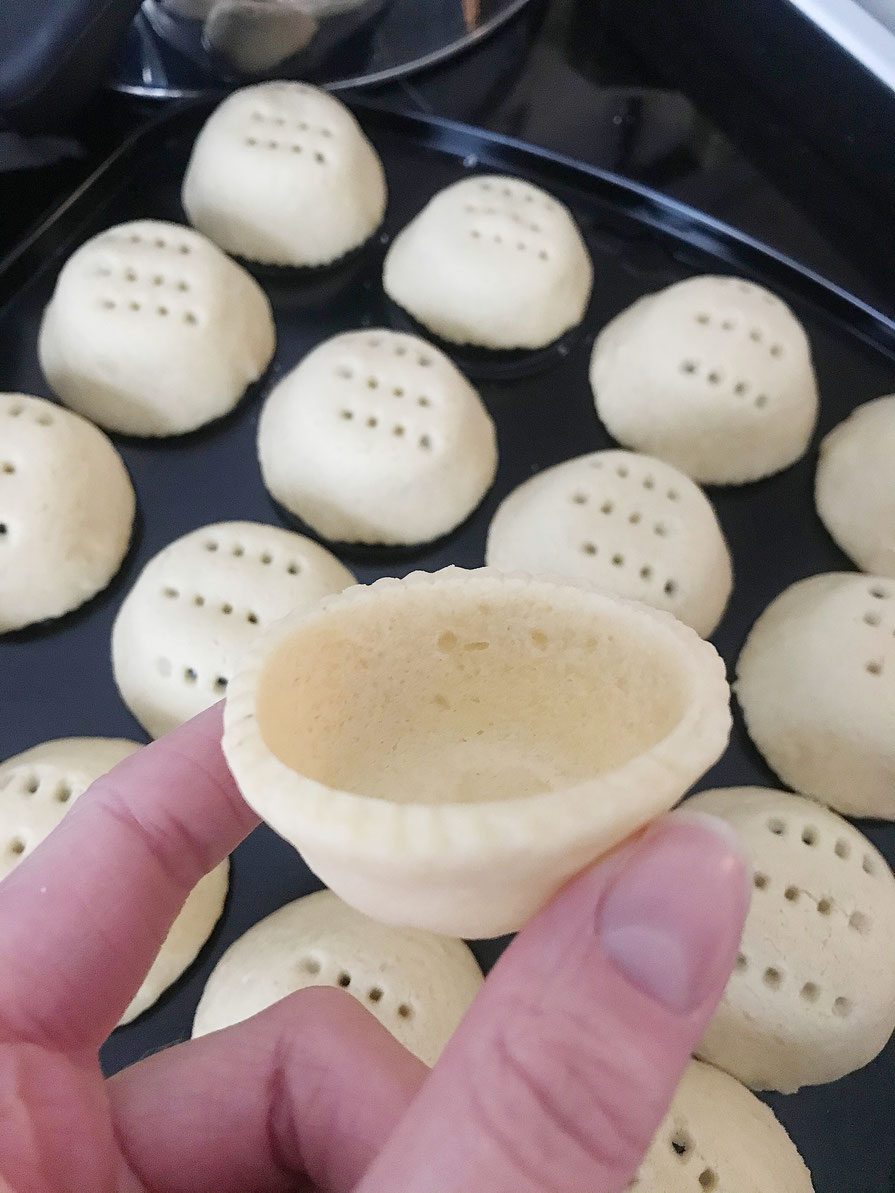 The last thing I made were these teeny mini tarts. These were very simple, the shells are just a basic sugar cookie dough, cut into little circles and baked over the back of a mini muffin tin. Picking them witch a fork before baking prevents them from rising too much and losing their shape. 
The filling was a basic vanilla custard made using custard powder, prepared according to the packaging. The chocolate stripes where added using the leftover chocolate I had anyways. 
5. the best part - teeny bees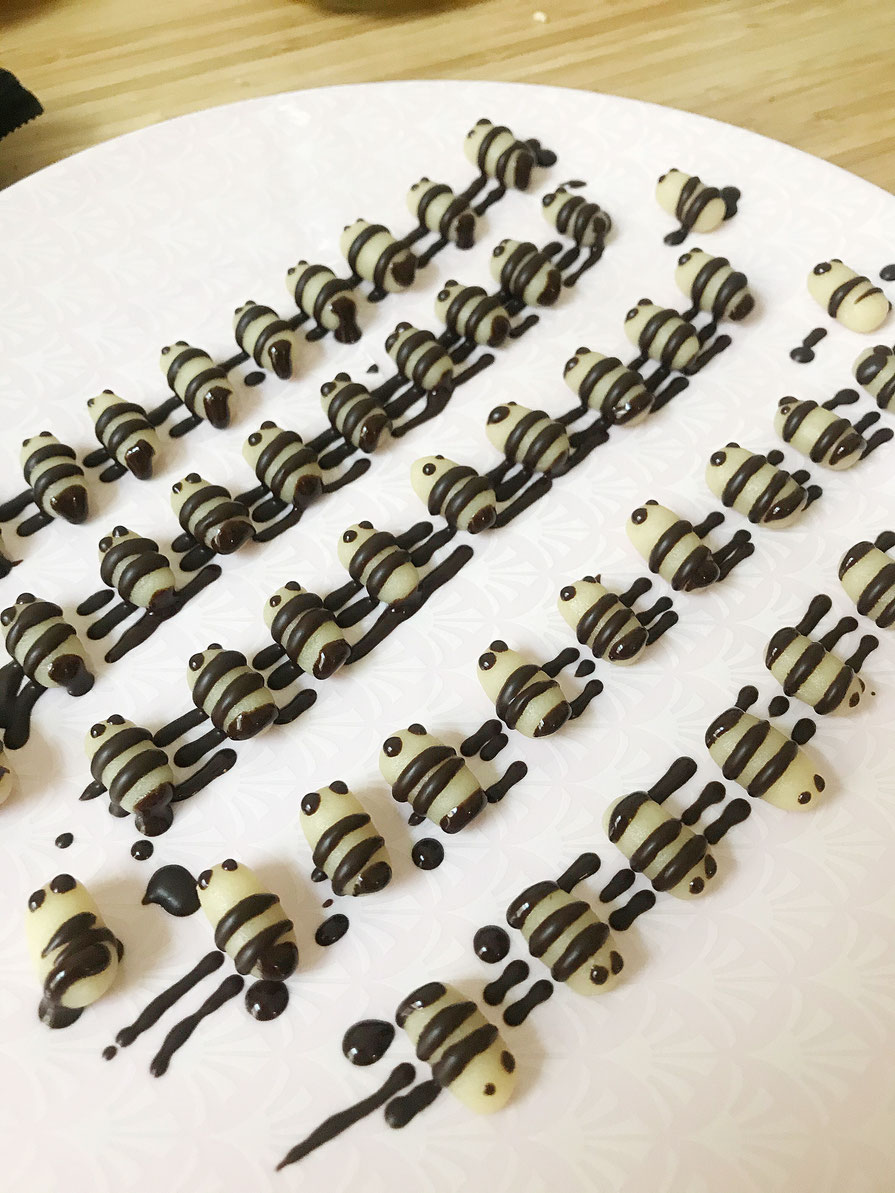 My very favourite part was this tiny marzipan bee army I made. The original recipe recommended butter cream, but I decided to use marzipan. It's very easy to roll out, shape and cut into little bees. The rest is the same as the original recipe, I think - half sliced almonds as wings and chocolate stripes and eyes. An invention I'm very proud of are the little "flying" bees on toothpicks.
And that's it! I really love how everything turned out and while it wasn't comparable to the picture perfect, aesthetic cake baked by a crazy talented baker for 100 bucks, it was full of creativity and love. And I think that's what counts, right?
And while non of these photos are a baby smashing cake in front of a giant ballon wall or me, celebrating in a shift dress and heels in my own kitchen (I'm barefoot as I'm typing this), the photos of the tiny bees and burning candles make my heart a little warm.
I'm really just sharing all of this for myself. Maybe also everyone who got to enjoy these cakes. And, perhaps, for you as a reader if you have read so far and felt a little excited and inspired.
Have a great time!
- Lara