---
Do you have that one person in your life that has a very, very vivid, child like imagination? The one friend that loves theme parties, funny costumes and will laugh about cat videos for hours? I definitely do, this person is my boyfriend. He has this joyful spirit and will laugh out loud when he sees a dog in a coat or any objects that have eyes on them.
He's a bit like the funny and cheerful character in every TV show, which is why everyone in my family gets him things like giant fake pralines or objects with googly eyes for Christmas or his birthday. 
Three years ago I had the idea of planning his birthday party accordingly. We had "chicken wings" brownie bites, "pizza" cheesecake (with strawberry sauce and grated white chocolate), "snail" cake rolls and similar things.
So just as a disclaimer: This is an inspiration board for my plans for this year and it's a bit more elegant than the previous ones. It's definitely not a classic "birthday" theme and could easily be used as an inspiration for a baby shower or wedding (or just any party) as well. Also, we're talking about deserts/ party food, not the decoration. There are so many beautiful ideas on other blogs and I think I'll keep it simple.
---
Russian honey cake
The first idea I saved is this beautiful Russian honey cake by Tasbih! click *here* to go to the recipe. Dulce de leche whipped cream frosting and many thin layers that can be made ahead, such a good idea! And it's obviously absolutely visually pleasing.
honey butter cake
An option that looks a bit easier to do is this honey butter cake recipe (click here fo the link). It has a cream cheese frosting which I always prefer over those heavy butter creams. such a simple, elegant option that looks absolutely delicious. I honestly can't decide already. 
honey comb cheesecake
This mousse cake is without any doubt on top of my list. The only problem is, that the recipe is in Hebrew, so if you can read it, *click here*. But since my love requested cheesecake specifically, I think I might be able to do that instead. Now guess how the texture is achieved... It's made using bubblewrap! Isn't that brilliant? If you can't read Hebrew as well, still go and look at the pictures, they're still helpful to understand the process.
little details
Here are some more little details, just as an inspiration. Click on the individual photos to go to the website. These are not all recipes, but just some little pictures that inspired my, maybe I'll incorporate some of these elements. I was thinking about making some little tarts filled with vanilla custard or lemon curd and some little golden "honeycomb" decorations on top. White chocolate, a bit of bubble wrap and probably some edible gold dust. 
Something else I'll 100% make to decorate the whole setup and all deserts are these tiny, dreamy bees:
the "fun" element
Now after drilling over all of these delicious cake options, you might think back to my introduction and wonder, where the funny, goofy element is. And I'll have to admit, so far it's more of a theme that I enjoy to make personally. But now there are these. 
Store bought mini donuts that are sticking their tongues out. Oh man. To make these fit in I'll find a way to add ears (e.g. chocolate pralines). put a little bee on the tongue and make them honey stealing bears. 
I sometimes feel like I have a toddler at home, the after work nap time, the funny snacks, the mood changes... But don't worry, I of course know that having an actual toddler is a job you only joke about before you've experienced it. I'll still take the excitement, giggles and peaks of joy, so I'm buying mini donuts to make them look a bit stupid.  
After all, being in your 20s is a bit like being a naive, over excited and constantly growing child under 10, right?
If we compare a drunk student's party to a day care or Kindergarten... 
But I can guarantee you that we won't be consuming any alcohol on this party, the closest we might get is the butter scotch glaze on the honey butter cake, that doesn't even include actual scotch.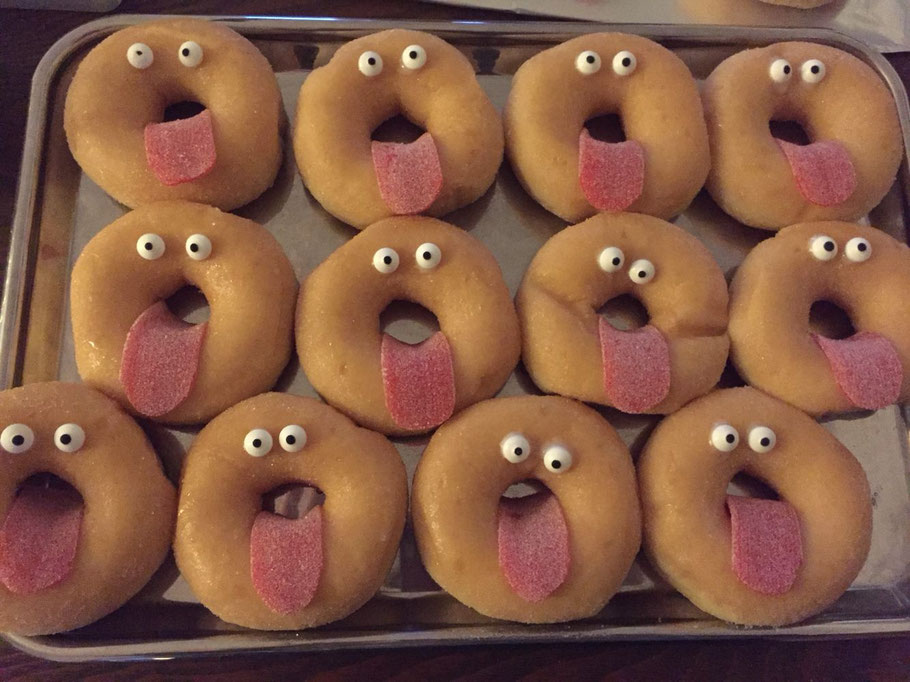 ---

I hope you enjoyed looking at my birthday planning mood board and are as excited as me to start planning a bee themed party soon. Until then, have a wonderful time, I'll start gathering everything I need for a grocery shopping list and hectically search for bubble wrap. Why is there no bubble wrap when you need it? Note to myself to be more mindful about packaging materials. 
Have a wonderful week!
Lara