For the longest time we had a thin 79 Cent doormat from Ikea. Not because I didn't want to pay more. No. Because there were no pretty doormats out there. I mean, you might be able to find one if you spend a long time online. But ordering a doormat and waiting for ages, having to pay for shipping etc. was questionable to me because... In the end it's a doormat, come on! Some people might say that this is exactly why you do not need a fancy doormat, it's just for cleaning your shoes. But it's all about the tiny things that bring a little joy to your daily life. 
---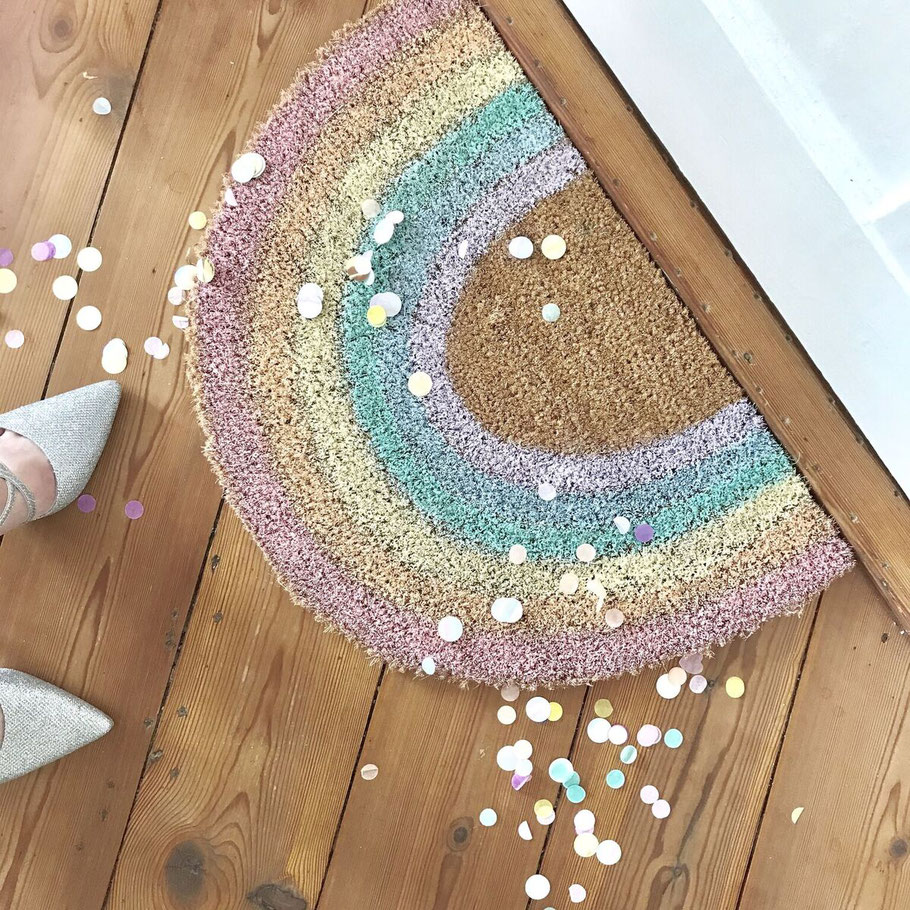 I'm going to be honest with you. I did spend hours online searching for a perfect solution. There were a few doormats with funny quotes on them. But we live in a house with so many old people. I thought "Don't ring unless you're Justin Timberlake" might be confusing to the 95 years old lady (she really is!) next door. 
When this rainbow doormat came to my mind two things happened.
1. I had to get it. So I started searching for it and got lost when I searched for pastel rainbows on Pinterest. So much cool stuff!
2. I remembered that when I was 10 my mum let us paint some doormats as a gift for my grandma with acrylic paint. My cat sneaked in, ran over my mat and we a kitchen full of colorful paws. Just as a side note. 
So I thought I should just give it a try. I Couldn't find any round doormats but if you see one you can totally skip the cutting part. Also, Acrylic paint is pretty durable but you can use pretty much any outdoor safe, water-proof paint. 
Here is a list of what you'll need:
a doormat, either round or easy to cut (mine was about 2-3 € at Ikea and is made of soft rubber)
if you need to cut it, a black marker and a sharp knife
a white base paint, I used Acrylic varnish 
acrylic paint
some containers to mix your paint & some kind of sticks to stir it
a paintbrush
some old newspapers, tissue paper etc. to protect your floors
a brush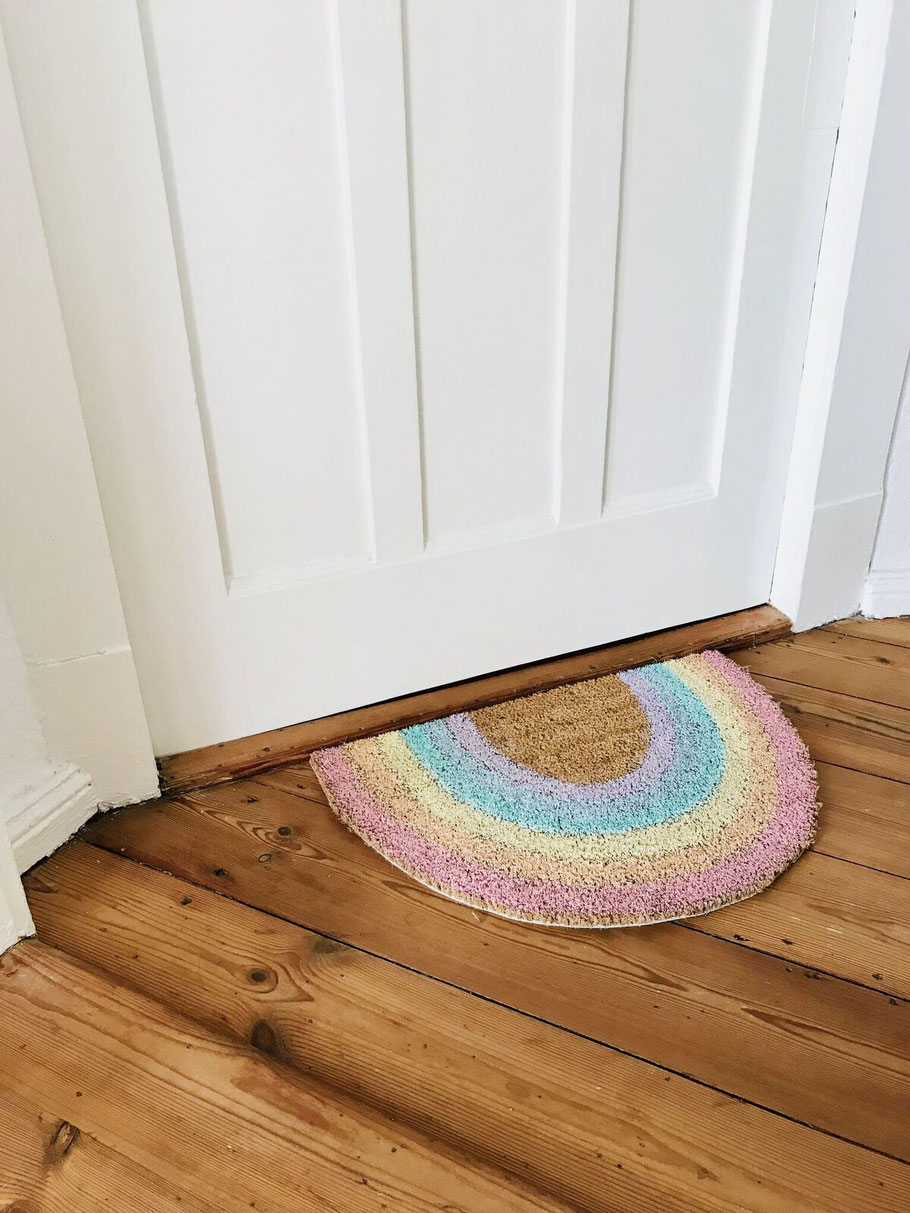 Start by sketching your half circle onto the back of your doormat. It isn't as hard to do, you can always correct it. Next, use a sharp cutter knife to cut it out. I'd recommend to do it in little segments and check the cut in between, just be careful. This was probably the hardest part and it still doesn't require a crazy skill level. You could totally cut out any shape you want. I could imagine making a cloud or probably a peach as I've recently seen an adorable peach shaped bathroom carpet. You know, just like the fun peach emoji.  
---
After cutting it out, put it on your protecting surface and start mixing your colors. I used white acrylic varnish as a base and little drops of acrylic paint to mix some pastel colours. And now to the easiest step: just paint it. Super easy process.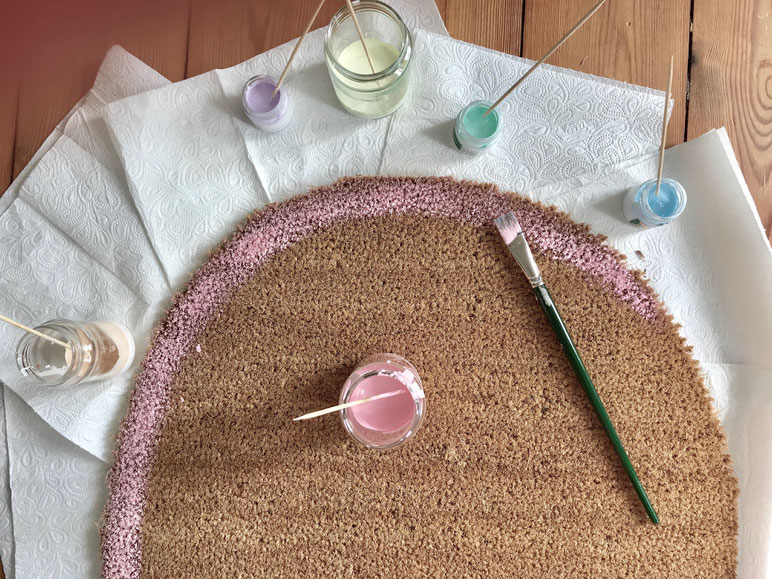 Let it dry for at least 24 hours to make sure there won't be any rainbow shoe soles :)
And you're done! Super easy, right? 
I hope this inspired you to get creative with your own fun doormat. 
Have fun!
- Lara