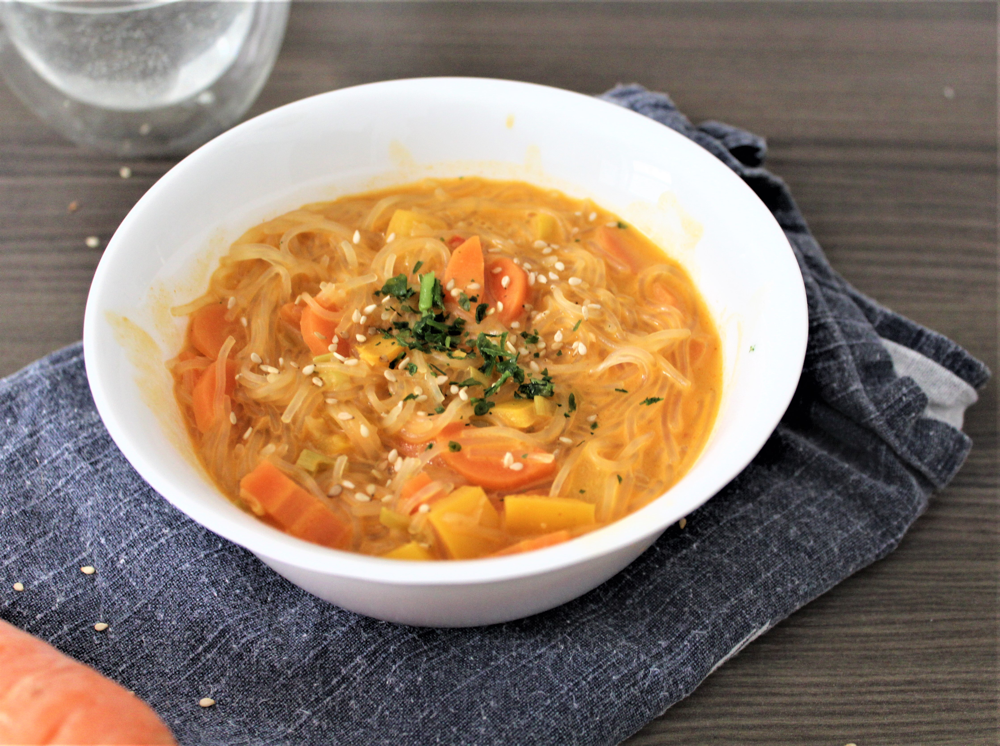 Today I woke up and started planning some meals. For some reason I like to plan ahead and think of some yummy combinations I could create to complete my grocery shopping list and also use what I still have. This soup is one of the things I made just using what I already had and you might have the ingredients too. If you love Asian style cooking just like I do you are probably prepared to make something with glass noodles or curry paste. And if you don't - there are really not too many fancy ingredients in here and you might just need to add two items to your shopping list.
It took me about ten minutes to find a good title for this. And I know that it's still way too long but just think about how good this soup is: I'm vegetarian but try to not consume too many animal products and to find a responsible balance. I typed "vegetarian soup" and then realized it was vegan. It is full of spices and you may have heard that spices don't only add a little flavour boost but also help with your digestion or immune system (like ginger does). And finally all of us love noodles but we don't always want to eat tons of calories and influence our blood sugar levels with too much wheat. Glass noodles are wheat free and lower in calories. The rest of the soup is almost only vegetables and coconut milk (you choose the fat percentage).
Speaking of fancy ingredients: I'm definitely not a professional chef and I don't claim to know everything about obviously very different (depending on the country) Asian kitchen.  That's why it's "thai inspired", that's the closest I could think of based on my experience with asian meals. But I don't want to write pages of disclaimers here, obviously you came to make delicious soup with me! So let's go and do it in my usual recipe style: Easy to make and customizable to your taste.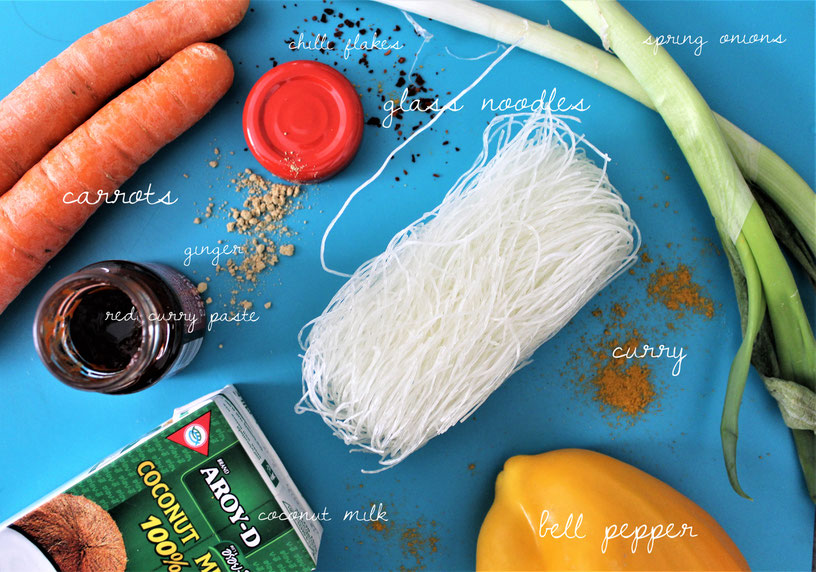 I'm usually cooking for two people just eyeballing my ingredients, I'll try to tell you how much I use so you can just divide it for one person or double it for 4 hungry people. I'm saying hungry because this recipe should make about two portions for two people (about four small cereal bowl sized full bowls). If you are planning on serving this as a starter, a side dish or just as a light little dinner it might be enough for four people.
You will need:
- 1 bell pepper, you choose the colour
- 1 can or small package of coconut milk (about 400-500 ml)
- about 3 spring onions
- 4 carrots
- a pinch of chilli flakes
- 1/2 teaspoon of ginger and curry powder
(or fresh ginger, I just ran out of it)
- 2 teaspoons of red curry paste
- a little bit of neutral oil
- water
That's it. Just eight ingredients. And I bet you at least have water at home, haha.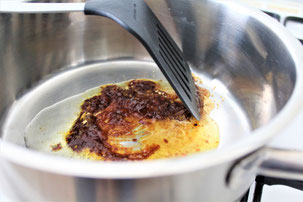 1. Mix your spices and the curry paste with your favourite oil and heat it up while you chop your spring onion, carrots and bell pepper. You should do this at very low heat so it doesn't burn and stick to your pot. Also, my measurement are just suggestions. My soup turned out quite spicy and hot so if that's not your thing just use a little less. If you're cooking this for kids you might want to add only a hint of spices and use some more mild spices like paprika powder or some tomato puree for the colour. Just note that this of course won't reallly make a thai/ curry like dish but it is still an option to make a jummy glass noodle soup.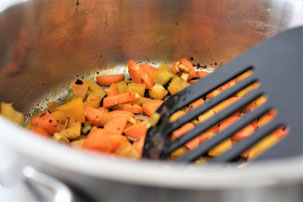 2. Throw in your veggies and mix until they are covered in spice mixture. Put a little more oil in if needed and fry them for a few minutes to infuse them with spices. Oh, in case you are wondering why there's no garlic in this recipe: It seems like every Asian recipe includes garlic. Idon't really like garlic and my boyfriend is convinced that he's allergic to it (never tested, just self-diagnosed and questionable). But you get the point: No garlic in this house. Feel free to add as much as you want if you are one of these 'Naah.. they are using a big clove anyways, I'll have to use 5 instead' -people.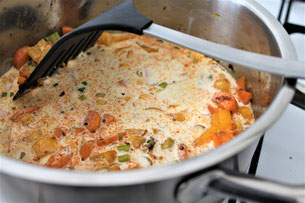 3. Now, ladies and gentlemen, we're turning it into a soup. Just pour in your coconut milk. Mine was quite liquid but I know it can be creamy to hard in consistency. This also depends on the fat percentage of your coconut milk. It sholud melt if you heat it up. At this point you can also add in a little water to turn it into the right amount of liquidness (is that a word?) for your soup. Let it simmer and stir from time to time until the carrots are almost as soft as you want them to be. I prefer a little bit of crunch istead of babyfood grade. I said almost because in the last few minutes you can add in you glass noodles.
And here you are. Your 20 minute, 8 ingredients and 3 steps soup is done. The glass noodles will only take a few minutes so be ready and you can serve your soup. You could also make it ahead and enjoy it cold. It tastes really good too. I can tell that because before I even came to step one I went to the kitchen to eat a little bit. That's quick publishing, right? I just made this soup this morning. 
I really hope you like it too and leave me a comment how it was and if you did any alternations to it!