---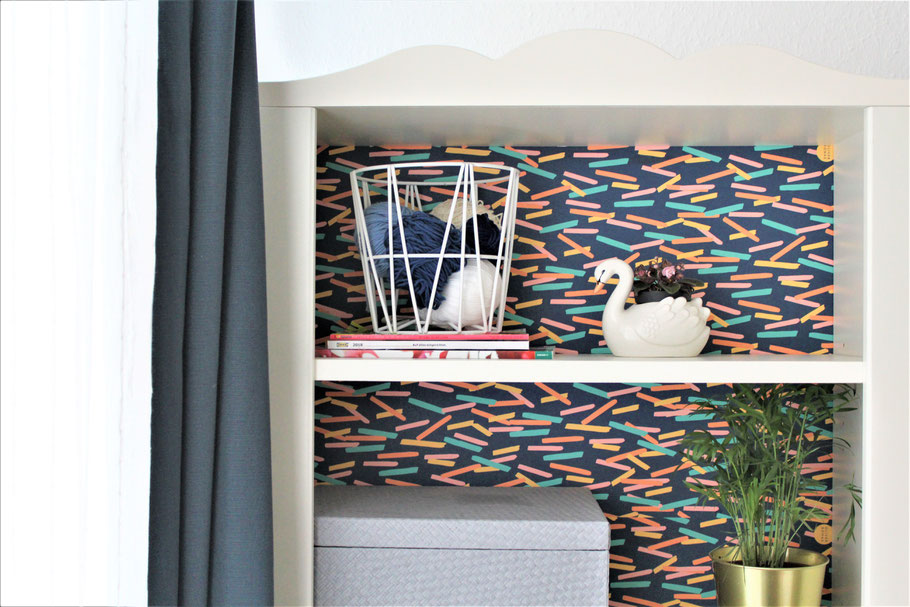 When we moved into our new apartement last summer this was one of the first projects I tackled. And I still really like how it turned out. Fortunately I took a few photos of the progress so I'm now able to turn it into a blog post. This is the kind of hack that is so simple, you can't even really call it a hack. One of these tiny improvements you make that make a huge difference. Just like painting your furniture, but even more hassle-free.    
Did you ever come across a gift wrapping paper that is just too pretty to use? Or a wallpaper pattern that was amazing but probably a little too much for a whole room or super expensive? Here is your excuse to buy a little bit of it and use it to line the drawers of your desk or make your boring shelves a little more interesting. I'm pretty sure someone had this idea before me but I think there are still some people that should know about this and I want to show you how I did it. So let's go:
I found the Ikea "Hensvik" style shelves online and to be honest, I already owned the matching closet when I found them. They are beautiful and I especially like the top part. The only downside was that it's actually made for toddlers and babies so a) everything is quite small and b) the inside of all pieces is a light grey with kind of hand drawn style stripes I never really loved (shown in pictures below). By the way, this is not a sponsored post, I wish blogging would make me earn anything, haha. Ikea would be a pretty cool sponsor as I basically live in there. But I guess that is nothing I can expect after one week and one post, right?
I can already see myself looking back to this being like "Oh girl... You were so young and inexperienced..."
Before I loose myself in crazy long texts about random stuff, this is what you'll need:
- a nice shelf (or whatever you choose to upgrade)
- some kind of regular glue, just not too liquid so your paper can't soak it up
- small sponges or a bigger paint brush
- pretty paper or wallpaper of your choice
(I used gift wrapping paper by Oliver Bonas)
- a sharp cutter / knife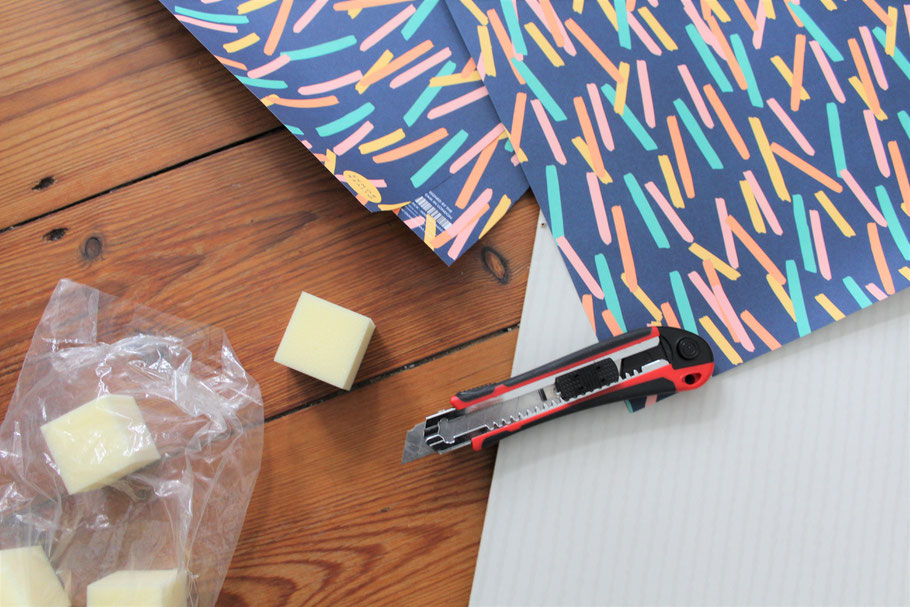 First I took off the back of my shelf which is pretty easy for ikea furniture as it's usually pretty thin and just attached with a few nails. If you can't figure out a way to have your piece seperately you'll have to measure the size precisely and cut out your paper before sticking it on. For exaple to line a drawer.
Now it's time to add your glue. Just put some of it on, you can always add more, and start to spread it out with your paint brush or in my case, a little sponge. It should be a thin, even layer that's just thick enough to not dry instantly. It really is about the balance, you don't want your paper to swim on the glue and crinkle up either.
Now comes the tricky part. Adding your paper. Just make sure it is big enough or if it isn't that you know how to place the next part. Then you can start slowly laying it down on your tacky film. Press it on slightly and stroke it as you go. You can use your flat hand or a handy tool like a ruler or a little book to remove air bubbles and folds this way.
And this is alredy your last step: Let it dry and trim the edges if needed. If you're afraid it might crinkle up while it's drying you can put on some books as weights to keep it nice and flat. Now it's ready to use. 
This idea is obviously not too durable for places like table tops (you could protect it by adding a glass top) or constantly used drawers but for decorative purposes it's a very simple but effective little hack. I've been asked where my shelf is from A LOT. 
And if you don't like it anymore... You just learned how to re-model it. ;)
the final look
---
---
Have fun crafting! I'm probably off to Ikea to... Honestly... Eat Swedish almond cakes and drink a lot of coffee beause it's free if you have the Ikea family card. At least where I live. 
Bye bye!
- Lara